MP Tennis Ladder
The MP Tennis Ladder is a citywide tennis league, open to men and women of all levels. Players schedule their own matches and can play as often as they want, with a minimum of once every two weeks.
The MP Tennis ladder started in 2000, and has seen over 33,000 matches played in that time. There are two seasons a year (Mar-Aug & Sept-Feb) and there is open sign ups all season, so you can join anytime.
If you are looking for a way to meet other tennis players and play more matches, the MP Tennis Ladder is for you.
To go to the log in/standings page, click "Standings" under the ladder header in the main menu
How the Ladder Works
The MP Tennis Ladder is basically a season long game of "king-of-the-hill". Players challenge those above them for their spots, while accepting challenges from those below them. At the end of the season, the top players on each ladder will qualify for the single-elimination tournament that is seeded based on each player's season ending position.
The best thing about the ladder is you can play as much as you want. The only minimums are you must play at least once in every two-week Bump Down period to hold your position, and at least eight matches for the season to be playoff eligible.
Some players have gotten in as many as 100 matches in a season! Most players get around 15-20 matches in the four-and -one-half month season. The MP Tennis Ladder is a great way to play more tennis.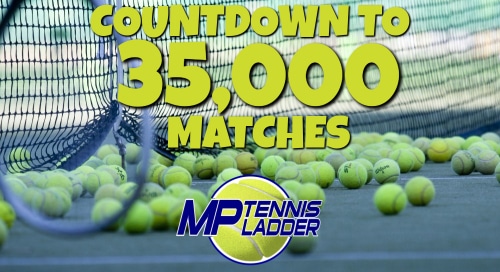 All-time matches played
(as of 1/15/19)
34,954
New Ladder Software for the Fall Season
This season, the MP Tennis Ladder will be using a new program for reporting scores, viewing standings and even issuing challenges. Click here for a video demonstration of the new ladder program.
All-time Single Season Win Record Broken
Congratulations to Nadesh Ramroop for setting a new all-time single season record for wins with 81.
He broke the five season old record of 70 set by Tom Shuga.
Congratulations to the Regular Season #1's
A Ladder – Hakim Kekri
B Ladder – Bryan Scofield
Players finishing the regular season at #1 win a set or Wilson or Luxilon strings.
Season 38 Warrior Award
Each season, the Warrior Award is given to the player with the most matches played during the regular season.
The player with the most matches overall on all ladders wins a pair of shoes from Wilson.
The player on the other ladders with the most played wins a set of strings from Wilson/Luxilon.
Standings as of 12/7/18
1. Dave Hendry – 46 (B)
2. Anna Fotopoulos – 27 (B)
3. John Redcay – 24 (B)
3. John Hendershot – 24 (B)
5. Three players with 21
A Ladder Leader – Chad Rebuck – 13
Milestones
Congratulations to the following players on hitting an all-time milestone on the MP Tennis Ladder during the current season.
Wins
John Redcay – 1200 
Dave Hendry – 350
Jeff Dunayer – 300
Bob Desbiens – 250
Nadesh Ramroop – 150
Anna Fotopoulos – 100
Sandy Trail – 100
Matches
Dave Hendry – 900 (5th player to 900)
Steve Myers – 700
Sergey Mischenko – 450
Rich Cooperwasser – 400
Chad Rebuck – 300
Mike Joshua – 250
Anna Fotopoulos – 200
Quentin Nguyen – 200
Eric Mercer – 150
Paul Fred – 150
Max Alexeyev – 150
Serguei Passioura – 100