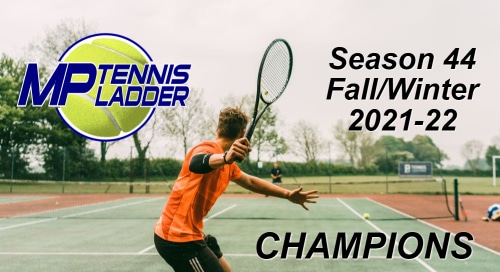 Congratulations to the Season 44 Champions
A Ladder – Ruben Paliz Jr
B Ladder – Andrew Garcia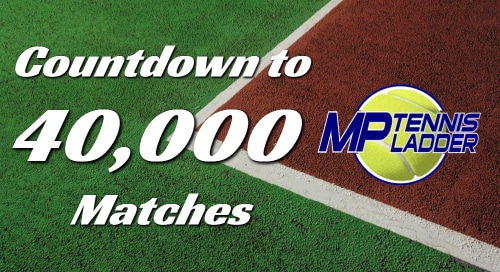 This Spring/Summer season will see
the 40,000th all-time match
played on the MP Tennis Ladder!
Match Total as of  5/4/22
39,803
#1 Seeds for Season 44 Playoffs
Congratulations to these players for finishing the regular season at #1
A Ladder – Andre Estrada
B Ladder – Paul Vincent
Season 45 Warrior Award
Each season, the Warrior Award is given to the player with the most matches played during the regular season.
The player with the most matches overall on all ladders wins a pair of shoes.
The player on the other ladder with the most played wins a set of strings from Laserfibre.
STANDINGS AS OF 5/4
1. Dave Hendry – 89 (B Ladder)
2. Jackson Phillips – 56 (B)
3. Tom Shuga – 18 (B)
4. Jeff Dunayer – 14 (B)
4. Debi Prasad Rath – 14 (B)
A Ladder Leader – Anna Fotopoulos – 12
Milestones
Congratulations to the following players on hitting an all-time milestone on the MP Tennis Ladder during the current season.
Wins
William Murray – 300
Joe Baranska – 200
Matches
Dave Hendry – 1,450
John Hendershot – 1,500
Paul Fred – 200
Craig MacDougal – 200