Baseball
We have you covered with some of the biggest names in baseball like Louisville Slugger, DeMarini, Wilson and EvoShield.
With our bat demo program, you can try before you buy, giving you the knowledge that when you buy a bat, it is the right one for you and your game.
Come in and see the newest bats, gloves and more at prices as competitive as you are.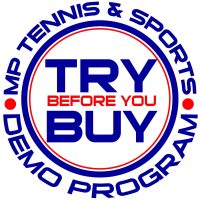 MP Tennis & Sports Demo Program
Not sure what is the right bat for you?
With our demo program you can try before you buy, making sure you have the bat that best fits you and your swing.
Come in and take a bat for a one time demo fee. Keep the bat a week. You can then swap it for another one to try. Once you find the right one, the demo fee comes off the price.
It's just that simple to have you hitting the ball better with the right bat for you.